LINEAR INDEX LINE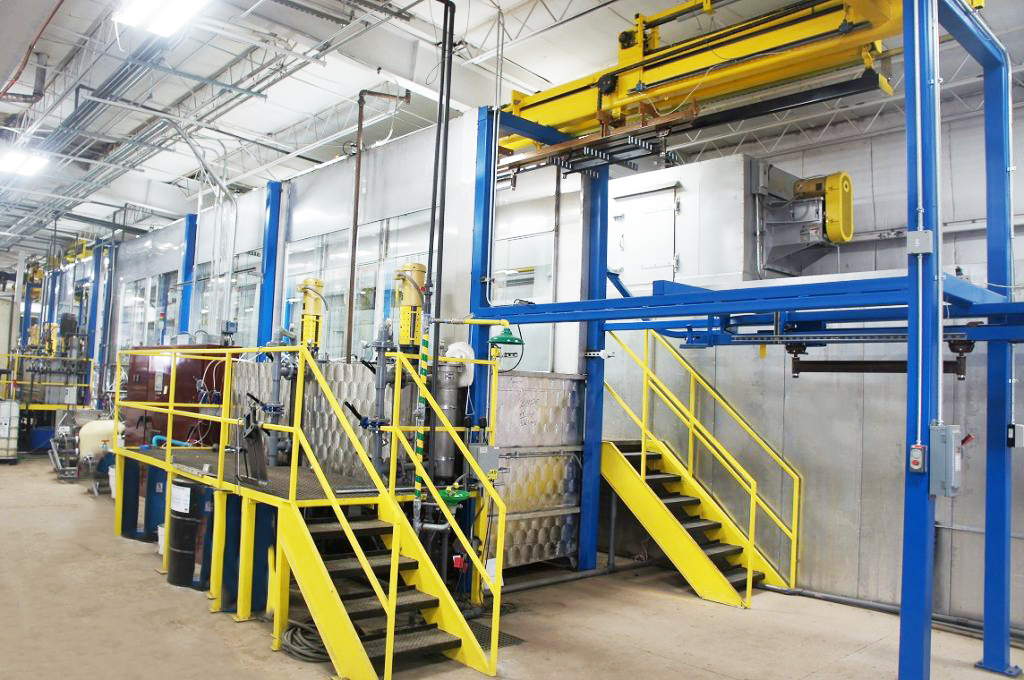 The AIS Linear Indexing Line (LIL) was developed as an alternative system option to our competitors Push Style and Programmable Hoist Systems. The system was designed to have the flexibility to e-coat, powder coat, liquid coat, clean/treat or do multiple processes at the same time. The LIL system requires a significantly reduced floor space compared to monorail systems and provides a high product density and weight load capacity. Our LIL systems are 100% pre-built in modular sections and are tested at our facilities. With this process you may have the comfort of a plant run-off that will also allow for a fast installation time frame.
With a rugged and simplistic design, the system is user-friendly requiring less maintenance and replacement of high-cost specialty parts. The design theory of our system is simple: Parts are hung on load bars tied into a heavy-duty power & free conveyor system and are indexed forward at rate of 20-30 load bars per hour. Parts are then transferred to a lowerator transfer system over the pretreatment and paint tanks, or to a dry-off oven and through paint booth system. Once the product is coated, the product is transferred to ground-level curing oven and cooling tunnel. The ground-level design eliminates the hassle and safety issues of climbing into ovens mounted high in the air. Parts then move onto the stationary unload/load area and repeat.
LINEAR INDEX LINE ADVANTAGES
-Takes up less building space. Our mid-sized line can be installed in 2,000 sq. ft.
-Lower ceiling height. Our mid-sized line can be installed in a building height of 16 feet.
-The LIL can be provided as a multi-process line to include:
-Liquid dip coat with or without powder coat
-E-coat line with or without powder coat
-Powder coat line
-Clean/phosphate line
-Can process 20-30 load bars per hour depending on chosen coating
-Lower capital expenditures than our competitors
-Lower operational costs
-Load bar capacities up to 1,500 lbs. per rack
-Ground-level oven requiring only 10' of ceiling height, easier to clean parts and clean oven
-Patent pending very efficient oven seals
-Oven/cooling tunnels can be installed independent of pre-treatment/coating system to include outside of building to conserve valuable floor space
-Exceptional PLC system with large easy-to-read screen. System has complete diagnostic capability
-Liquid dip line has a quick color change capability
-Can be provided as all immersion pre-treat or combination immersion/spray
-Chemical monitoring system available
-Roller-based transfer system with minimal moving parts
-Gear driven lift/transfer system which is a quieter, longer lasting and minimal noise version compared to traditional hydraulic systems that often leak.
-Reduced lead time for delivery. Accelerated deliveries as short as 15 weeks available
-Dual-tunnel design options provide 100% more capacity while adding only 50-55% to the total costs
-Modular construction for quick install and removal (Line can be installed in 2 weeks or less)
-Please contact us for immediate layouts and formal proposals.
CLICK LINK FOR A VIDEO ON OUR INDEX LINE
CONTACT US NOW!